Basically I did some serious damage to my knee and after weeks of physiotherapy to see if it would fix itself, my surgeon now reckons an arthroscopy is required to get me up and running again.
In the meantime I have evolved into a MAMIL. This is something that I had strenuously resisted, in my weakened state the lure of the Lycra was too strong.
For those of you not in the know, MAMIL stands for "Middle Aged Man in Lycra". It is a mildly derogatory term used for the thousands of male cyclists that hit the road early on Saturday and Sunday mornings. We go out under the cover of darkness in our tight figure hugging outfits, and then once the sun is up we gather in packs to preen and pose at coffee shops all over the western world.
I have been cycling for the last 3 months. It doesn't completely replace the high of a good long run but it goes close and you can go so much further. You also get to splash out a whole lot of money on stuff you never knew you needed. I have Lycra leg and arm warmers, logo infested jerseys and an assortment of Lycra shorts with, and I quote, "high density foam inserts protecting all contact points."
My new internet addiction is surfing the web for various items of cycling paraphernalia and leering at expensive carbon-fibre bikes. Robyn calls it "bike porn".
Until I am back running, I am committed to the bike. The family and I are all off to Adelaide next January to watch the Tour Down Under. Apart from a good excuse to indulge my new passion, and visit some of the finest wineries in Australia, I have also signed up to ride the Bupa Challenge. You ride the same stage as the professionals, you set off early in the morning before the peloton and cover the 135km's a lot slower than they will.
Milly is very impressed she wrote this poem for me for Father's Day:
You ran so far you hurt your knee,
But that doesn't stop you from loving me,
You took up biking to occupy your mind,
But that won't stop you being kind,
When you're going so slow up hills,
That you fall off because you're almost still,
Just remember that as long as my heart is in my chest,
I will always think you're the best.
My neighbour provided this other perspective when he saw me looking resplendent in my Lycra, "Ben, you are a walking cliché", he remarked.
I think this is a fair, slightly snuggly fitting, observation of where my mid-life crisis has taken me.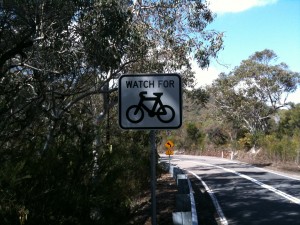 I have not run a single stride since I completed the marathon in April. An MRI reviled that I had an "8mm chondral flap with moderate marrow oedema of the lateral patellar articular facet".