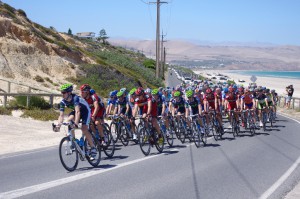 Adelaide has a lot to offer at any time of year.
In January during the week of the Tour Down Under the whole city is overrun by Lycra wearing folks of all ages and of varying shapes and sizes who are all passionate about their cycling. The circus comes to town and everybody is invited to dress up and get involved.
My family were not going to pass up the opportunity for a holiday even if it did mean they had to indulge my latest passion for cycling.
I thought there may have been a little more resistance to standing by the side of a road in temperatures over 30 degrees waiting for the Peloton to flash by. Fortunately The Tour has a lot to offer beside just the race.
Free Stuff – If you get along to the start or the finish then the kind marketing folk of the various sponsors want to give you as much free stuff as you can carry. Hats, water bottles, torches, beer coolers, bags, more hats, cow bells, if it can have a logo stamped on it you can get it. Milly and Alice loved this, doesn't matter what it is, if it is free it's got to be good.
The Route– Each stage starts around Adelaide and finishes within a radius of around 100 km. If you have bought your bike and a few mates you ride out to watch the race and then cycle back to Adelaide for an evening of entertainment.
If you are there with the family you can find a piece of road that is right next to a beach or near a winery to keep them entertained (my girls love a visit to a cellar door, I take it as a sign of potential sophistication and refinement, not a bad omen of things to come) . If this doesn't work then you can always get more free stuff.
The Peloton – The tour riders are really accessible. You see them out on training rides, you can get close to them at the start and at the finish and they all seem really happy to have a chat.
According to Robyn they also all smell very nice. A strange thing to notice but when they all come whizzing past there is a definite smell of metrosexual grooming product. You might expect this at the start of the day but even after 150km+ of racing the intoxicating smell of lotions and potions was ever present. Not surprisingly L'Oreal is a sponsor and I was given vast quantities of free stuff from their nice promotional ladies, who obviously thought my personal hygiene could do with some assistance. I have more tubes and packets of lotions for all sorts of things that I never knew men were allowed to do to themselves. I'm still not sure where I should be applying my "Men Expert – Erase Wrinkles Anti-Expression Lines Moisturising Cream", maybe it will solve my freckle problem.
The initial motivation for our trip to Adelaide was for me to ride the challenge leg before the pros. Along with thousands of others I completed the 135km ride and loved every minute of it. I normally ride on my own so having lots of other folk to follow and work alongside was great. I completed the ride in less than 5 hours and the family were at the finish line to cheer me home. I certainly didn't smell like the peloton, had no free stuff to hand out but my girls were delighted to see me , to offer me a drink from their water bottles, to ring their bells to mark my achievement and to raise a free hat to the Tour Down Under.