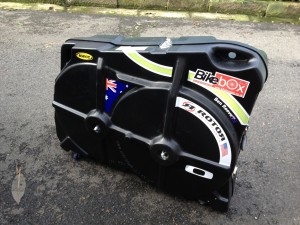 Cycling is a world of brands, from the names of the bikes people ride to the names on the clothes that they wear and the accessories that they carry.
How refreshing was it to find a bike box named after itself and the bloke who makes them. The love of my life is safely packed into my "bikeboxalan" (that is its name!) and is currently being loaded onto the plane for my departure to the UK.
I found it strangely more emotional giving my bike over to the baggage handler than saying goodbye to Robyn. I have justified this by saying that I know Robyn will be OK, we have been separated before, the bike and I haven't.
Having grown very fond of my bike I think she deserves a name. I know of other blokes who have had their bikes named by their wives, as they felt that the object of their husbands  affair needed to be named and shamed. Robyn has yet again demonstrated why she is the right women for me as she has been encouraging me to give it a name (I still don't know if she is chuckling away behind my back at these indulgences , or if she really has bought into the whole lunacy)
So with more thought and conjecture than naming either of my daughters I have decided to call her "Dame Edna". I needed something that was suitably Australian, and apart from the obvious, Sheila or Matilda, the only other option was to call her Kylie. The thought of throwing my leg over Kylie at 5am was a little too much for me to handle, I don't encounter any problems thinking about the name Edna.
So  my Cervelo R3 has been christened Dame Edna, the boarding pass has been signed and I wish her well for the flight and a loving reunion at Heathrow.
I am going to attempt to blog a little more regularly during my trip so you can keep upto date with the progress I am making. You can  check out the TDF website at www.tourdeforce.org.uk