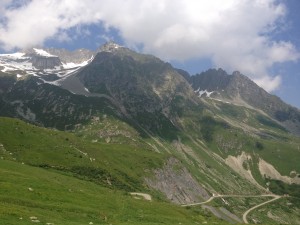 I have cycled my way around France and in the process I have ridden over 1,000km and climbed 20,000 meters. All of this and I can still sit down without wincing!
Joining the Tour De Force group, 2 weeks into the overall tour, was a bit like going to a new school. Everybody who is part of it knows the routine and the way things are done. For the newbies working this out and getting the rhythm of tour life was our initial challenge. The fact that the whole thing is so well organised and that the other riders are supportive made it easy to feel that you were part of something a little special.
In all honesty I didn't really know what I had let myself in for. Without a reference of what an Alp looks like I think I benefited from a little bit of "ignorance is bliss". It wasn't until the first evening and we got a briefing of our first days ride, 243km finishing with a climb up Mont Ventoux, that I began to think I may be a little out of my depth.
Even if you were a "lifer", riding all the stages, or if this was your first stage like me there appeared to be a certain degree of nervousness about riding stage 15.
It was a baptism of fire, a 220km ride in hot weather across a very picturesque France and then the 20km climb. Up until the bottom of the climb I had really enjoyed the day, and then it just got a little silly.
It was hot and very steep. No amount of training around the hills of Sydney could prepare me for this type of climb and it was all I could do to keep the pedals turning. Periodically the body gave up and I would have to stop, slump over the handlebars and started wishing I was elsewhere.
Then some other Lycra clad loony would go past, shout some encouragement and I felt obliged to get back on and try again. This was the process I followed all the way to the top of my first HC climb.
As an added bonus I also got to descend the mountain in a full on thunderstorm. As hard as it was going up, coming down in torrential rain, cramping and wobbling all over the road as I shivered my way down is more memorable. I am sure that having completed one of the slowest ascents, I then followed it up with a prize winning performance for the slowest decent.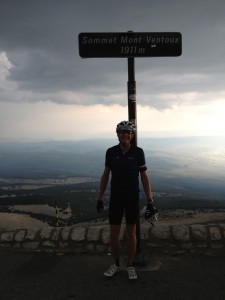 Having achieved this I took a degree of confidence into the other days. The body held up and even with some long days riding and some seriously challenging climbing I can honestly say I loved every minute and it was a truly great experience.
If I was to summarise what made the week so great, it would be…
The scenery and the weather, it was perfect  and just made the whole country look stunning
 The organisation of the whole event was great. If you want to feel like a pro and just worry about riding your bike and very little else, this is the event for you. You also get to raise some money for a very good cause
The people you got to ride with. I met some great people and had lots of laughs. Doing something like this creates a great feeling of camaraderie.
Riding up some iconic climbs, I can now boast to have ridden up Mont Ventoux, the Col du Glandon, the Cold de la Madeleine and to top it all Alpe-D'Huez, twice in the same day.
Getting to ride around Paris on Bastille day in a big bunch and with the mates that you have made over the week
All great experiences, if you were to ask me for one memorable moment?
Well it's a little bit left field.
I could wax lyrically about the stunning vistas, the scary descents or the overall sense of achievement. For me the best moment was on the final climb on stage 20 going up Annecy-Semnoz. This is a steep climb, 10.7km @ 8.5% gradient, and what I shall remember it for is being involved in some of the slowest overtaking manoeuvres in cycling history.
By this stage I was cycling so slowly that it was remarkable that I stayed upright. If we had been on the flat people would have marvelled that you could actually ride a bike that slowly and not fall off.
So there I am doing my thing up the hill and a number of riders came past me. What made it memorable was that they were going only marginally quicker so it took a couple of minutes for them to draw level , nod or grunt some encouragement in my direction, then fix their gaze on the road ahead and it would then be several more minutes for them to pull ahead. It was like I was part of the Tour De France, only doing it frame by frame. All the same drama and intensity just done incredibly slowly.
It was only then that I realised how daft I must have looked.  I may have felt a sense of achievement and satisfaction but the reality is if you had driven past me you probably would have wondered why that daft middle aged bloke had nothing better to do with his time.
I was taking on the course of the professionals in my own unprofessional way and this really made me laugh. As I continued to grind the long way to the top, the only rock and roll was me going all over the road as I made it up another bloody big hill in France.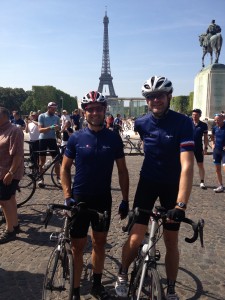 Go on, make a donation at http://www.bmycharity.com/benreeve2013  to a very worthwhile cause The  William Wates Memorial Trust