Robyn's mum and dad's farm is at a place called Ungarie, in Bland Shire, NSW, Australia. I love our escapes to the country and had never really registered the Shire's name until the Bland Shire was recently twined with the towns of Dull (Scotland) and Boring (US).
We are back for a week over the school holidays and with time on our hands we have been following and inspired by all our Northern Hemisphere friends who have been enjoying summer and their bikes. There are people cycling the Tour De France route, others spending their leisure time climbing big mountains and a few new recruits to cycling riding further than they ever had before for very good causes.
It doesn't matter what they are up to the photos always look fun and inspiring.
Rural NSW,  is so different to where I grew up, open spaces, great big skies and normally hot. We do have winter in Australia and it can get cold,  yesterday Robyn and I ventured out into it.
Robyn has been training hard over the last 6 months and we are taking every opportunity to put some km into her legs for her big ride in October. It's amazing how quickly you can adapt, we had ridden our planned 200km route 10 weeks ago when we were last back on the farm. At that time it was a significant achievement for her, this time round it was not quite so daunting.
This part of "The Bush" is relatively flat and uncomplicated. Our route needed us to make a mere 6 turns in 200km of cycling! Not a navigational challenge, but one of mental stamina as you basically just sit on your bike for 8 hours pedalling.
In warmer weather this is quite pleasant, yesterday the Tour De Bland, as Robyn christened it, lived up to its name. The novelty of having a short winter means that I don't normally mind rugging up in my winter cycling paraphernalia. The reality is that if it starts off cold it will normally warm up and you end up stripping everything off as you get too hot. It can be difficult to plan for this as temperatures can go from just above freezing to 18oC in a couple of hours. You don't want to be carrying too much gear so you layer well and if anything prepare to be a little cold first thing as compensation for not having to lug it all around for the rest of the day.
Yesterday's forecast was to start out just above freezing and peak at 16oC. Well they got the temperature for the start right. Greeted by cold dense fog we set off at 7.30am. I felt great waves of nostalgia for all those winters growing up in the UK. Robyn and I pedalled along deserted roads side by side discussing this and our time we lived in Dublin, concluding it was a tad too dry to be what the Irish call a "soft day".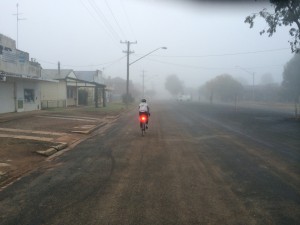 Having just made this observation the grey mist surrounding us turned into drizzle. Half an hour later and I was secretly questioning if we should just give up and go back. Nostalgia is only good for remembering not re-living.
Cold hands and toes now reminded me of why I moved 10,500 miles in the first place. I had a good look at Robyn, if she was thinking about going home she didn't show it. So I did what any dutiful domestique has to do, I hit the front, took the pace up a little to try and keep warm and we rode in a grey cacoon for the next 80km.
90km on a flat straight road in a wet mist, staring at my arse demonstrates Robyn's commitment to the cause. We arrived at Condoblin just after 11am. The local cafe had the fire going so we took up residence in front of it.
It was  obvious the temperature was not going to get out of single digits for the day. Everything had warmed up but our toes were still a problem. I concluded we needed oversocks. The $16 we spent on two pairs of Size 12-14 workman's socks was the best money we have spent on any cycling kit. We squeezed them over our cycling shoes and sat on the floor in the newsagents using a borrowed knife cutting holes for our cleats.  The locals were very interested by now and what followed was a quick demonstration of cleat technology to a small collection of the Condo women's institute before we were waved off into the mist.
Back on the road, now with warm toes, life was getting easier. A tail wind for the next 70km and we flew to our next stop, Tullibigeal.
Tullibigeal has a cafe and seemingly the only spot of sunshine in the whole district. We refuelled and headed for home. No sooner where we back on the bikes and the sun disappeared, the low grey cloud appeared and we made our 5th turn of the day into a headwind.
I had recently noticed that Robyn had made the final transition into a tragic cycling bore when she started to get interested in her cycling data. We had made good time, we were 1.5km per hour faster than last time we rode this route. It may seem insignificant but over 200km ride this adds up to big chunks of time. The headwind was going to threaten this.
Now was Robyn's chance to learn to draft properly. The idea was for her to sit as close as she could on my back wheel to keep out of the wind while I bought us home. I was to keep the pace up and as an added incentive I wasn't going to stop if she couldn't keep up.  She could either work hard, hold my wheel and fly home or work hard and pedal into the wind on her own as her average speed plummeted.
What an incentive! Robyn now has no qualms about drafting, she was so close she could see the stitching on my shorts.
A final right turn and the 3km finishing straight had the Tour de Bland nearly completed.
Robyn held my wheel as I gave it everything, then like Mark Cavendish she pulled out and rocketed past the finishing line, doing its best farm gate impression.
Cold, grey, damp and miserable is how I had described the Tour De Bland when we were in Condo. A warm shower, a few beers and all the downsides of the day are being forgotten about. Sometimes the journey itself may not be the most interesting,  what you do along the way, who you meet and the final destination make it all worthwhile.