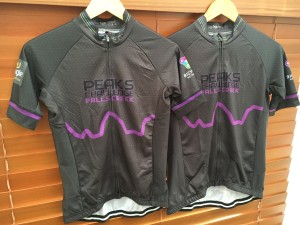 "A sense of achievement, relief and a sore bum", is how Robyn described how she felt at the finish line.
There is something immensely satisfying about setting a goal and then working hard to achieve it. Particularly when the goal is to ride 235km and climb three big mountains in a single day to complete the 3 Peaks Challenge.
Personally this was physically and mentally the hardest of my three 3 Peaks rides. It's the longest I've spent in the saddle and having to think and stay conscious of what Robyn needed and not to just take care of myself was mentally draining.
Normally I just ride my bike. Yesterday I was Robyn's Super Domestique.
These events are not the sort of thing that you can do on a whim, it's just too far and too strenuous. It takes preparation, planning and a strategy.
Our race strategy consisted of a number of principles.
1) Start slow and finish fast
We positioned ourselves at the back, the very back, of the 1,950 starters. This would allow us to descend the 25 km down from Falls Creek in relative safety and control.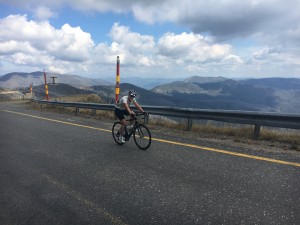 So at 7:15 am after passing a few riders we effectively had the mountain to ourselves. By the time we started the first real climb of the day, up Tawonga Gap we had already started to pass the back markers. Our plan was to ride through the field for the next 12 hours. Our feeling of calm and control was disrupted when the Lantern Rouge riders came merrily past us. There is a time limit for this event, you have to complete it in 13 hours or you don't get your finishers jersey. These are the guys you must beat at the end of the day and they were riding to a predetermined schedule which had them go out fast on the anticipation that the back markers would all be finishing slowly. We took a deep breath, stuck to our plan and spun up the first climb without breaking into a sweat.
2) Conserve as much energy as possible
After riding around for six months looking at my back wheel and my backside, another 12 hours wasn't going to hurt Robyn. She was to stay tucked in, drafting behind me as I towed her around.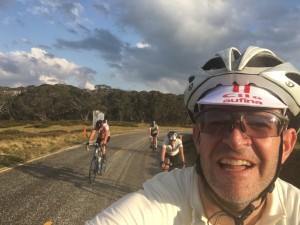 This was working well until 20 km before the second big climb. I had a rush of blood to the head. I thought that I had dropped her as we got caught up with another large bunch of riders. Given that our first rest stop for the day was just before the start of the climb I set sail to get there as quickly as possible, so I could get everything ready for when Robyn arrived. I cranked it up with a few riders sitting behind me getting a free tow. Having to ride within myself is what makes this physically and mentally demanding for me. Having given myself permission to cut loose it was game on. The closer we got, the faster I went. Then all of a sudden Robyn appears next to me, hardly able to speak she screamed for me to slow down! She had been following my instructions to the letter and had been hanging on to the back of the bunch for dear life. I immediately sat up, she tucked in behind me and normal service was resumed.
3) Stick to a carefully planned nutrition strategy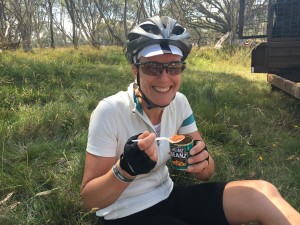 If you want to, your approach to what you eat can become all consuming. Low fat, high carb, protein rich, electrolite full, a whole industry has grown up to support the fanatical endurance athlete. Our carefully thought through strategy was to eat whatever you could carry and enjoy.
Thickly spread Nutella on flabby white bread wraps, cheese and salami panini, whatever tastes good is on the menu. This is augmented by countless energy bars and gels and an energy source not found in any well read cyclist magazine. It's amazing what a tin of baked beans and some Homebrand rice pudding can do for tired legs.
4) You do not walk!
It doesn't matter how steep or how far you have ridden, you do not get off and walk, you just have to keep on peddling. The final climb of the day is after 200 km. In total it's a 25km climb back up to Falls Creek. The first part is a 9 km ascent at an average gradient of 9%.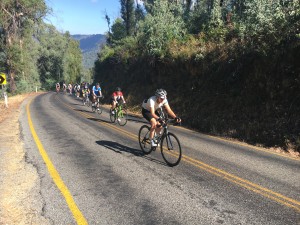 By the time we arrived at the climb we were now riding with lots of other cyclists. It was carnage! People were pushing bikes, sitting down and occasionally just stopping in the middle of the road unable to go any further. It's a bloody hard climb. Trying to ride this with Robyn was just not possible. Different gearing means that up the steeper parts I just have to climb at my own pace. Every couple of kilometres I'd pull over, stop and wait for Robyn. As I'd look expectantly down the mountain a procession of cyclists would drag themselves past me. It wouldn't be too long before Robyn would appear riding at a consistent tempo with her game face on. I know it was hurting but she wasn't going to show this to the other riders. Robyn did not stop once.
The Result
Our strategies got us round in 11 hours and 48 minutes. We are now the proud owners of matching his and hers finishers jerseys. There has already been talk of next time! Sub 10 hour matching jerseys really would be a unbelievable achievement.