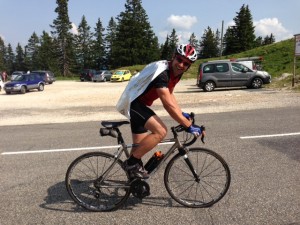 What do you buy the middle aged man that has everything?
We know you take your cycling seriously, we also know that you want to stand out from the crowd, so how do you inject some fun and style back into your cycling wardrobe?
Have you ever considered wearing a cape? No, not the traditional rain cape but a glamorous "Vanka Velo" cape. The cape that turns you from sad git into instant superhero.
The cape has proven powers of recovery just watch the videos of the founding members of Vanka Velo trialling the cape after a gruiling few days riding through the French Alps
Vanka Velo is a new concept in cycling wear. We don't take ourselves too seriously, in fact we acknowledge that most of society thinks we are in fact "Vanka's" . To register your interest for a cape and other products to signify to the rest of the peloton that you are that little bit special, drop us a line…