I have been off my bike for the last 6 weeks.
I did something to my back whilst on tour with Alice's school band. It can't be directly attributed to my bike riding, more as a result of neglecting  to do anything to strengthen my core (I didn't even know I had one!). Seemingly a finely tuned athlete like myself should not take his ageing frame for granted and shifting a multitude of brass instruments and a full set of percussion was not what the doctor ordered.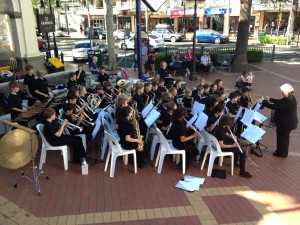 As frustrating as it has been, it has made me realise that I can get a little too focused on my sporting pursuits. As much as I thought I understood what balance and a sustainable training regime looked like, clearly this is my bodies' way of saying, "Stop it, you are a silly Lycra clad man and I've had enough!"
Apparently its nothing structural, just a "mechanical niggle" that won't go away. Now I have full movement back I am allowed to get back in the saddle. My Physio did point out that I should be happy that I made it around France and it was best for this to happen now rather than last July or to have a major issue later down the track.
He also got excited when I talked of a more balanced program next year and maybe re-introducing some running and asked if I had another marathon in me!  (He is a sports physio so his goal is to get you back out there! I hope its not so we end up back here?)
I am considering the last 6 weeks my "Great Escape" from anything too serious and it has been quality time to plan for 2014.
Here is Alice's School Band playing the theme from The Great Escape. Give it a listen you'll be impressed, they range in age from 10-12 years old
01_The Great Escape – R.W.Smith mp3